The Devon Country Fair is all about traditions! As the philanthropic arm of the Devon Horse Show and Country Fair this committee has over 100 Chairmen and 2,000 volunteers who come together each year to plan and staff food and other booths. It's quite an undertaking!
Country Fair traditions are many including; yummy lemon sticks, lots of fun candy and the iconic Devon fudge. The annual souvenir pin is another fun tradition, many collect the pins and add to their lanyards. Most of all, the Country Fair is a tradition of so many coming together as a community whether it is to scoop ice cream or sell Derby chances.
Let's not forget another Devon tradition: the unpredictable weather! Indeed the Country Fair has something for everyone. We are always looking for new volunteers so if you want to join in and make Devon your tradition, join us at the Volunteer Appreciation Party on Sunday, April 26th on the Horse Show Grounds beginning at 4:00 p.m. or click here to sign up to volunteer. You may also e-mail us at volunteer@devonhorseshow.org.
All proceeds from the Devon Country Fair are donated to Bryn Mawr Hospital, another long standing and honored tradition.
Vendors
Adler Grier
17A
"Casual chic" creations infusing vibrant colors and metals in original designs of bold style
American Trench
71
Made in USA trench coats, outerwear, socks, caps, apparel, and accessories
Apple Tree, The
12

Congratulations on your 35th Year as a Vendor at the Devon Horse Show & Country Fair!

Spring and summer clothes, handbags and shoes
B&D Builders
71A
Builders of fine equestrian facilities and homes
Bird Dog Bay
39
Sophisticated yet whimsical men's accessories and traditional clothing
Bohemian Pink
21
A charming collection of bright and colorful items for women and children.
Boot & Bridle
63/64
Riding apparel and equipment, sportswear, gifts, jewelry, and Parlanti boots
Briar Hill Signworks
31B
Custom carved wood signs
Candy
36
Devon fudge, lemon sticks and candy galore
Caracol
66
Latest fashions in equestrian and non-equestrian jewelry, Italian handbags, SolAir hats
CARINA HILDEBRANDT
30
Quality, hand-finished artisanal knitwear featuring baby alpaca, organic cotton and taffeta
Christine Shirley Designs
50
A thoughtfully curated boutique carrying handmade apparel and accessories as well as the work of other designers. Comfy, cozy and cute, easy-to-wear apparel, lovely jewelry, home decor and floral gifts can be found here.
Churchwell's Jewelry
25
The finest of unique gold and silver equestrian and nautical jewelry
Clydesdales' Corner Pub
54
A casual place to gather, live music nightly, Must be over 21 years of age
County Saddlery
68
For all your saddle needs – including customs
CWD Sellier
65
Equestrian Saddles, latest fashions in equestrian and non-equestrian jewelry
Der Dau
67
Custom boots & shoes
Devon Derby
33
Winners will be drawn on Saturday evening, June 2nd
Devon Kids/Future Champions
35
Official location for all Devon merchandise for the younger horse enthusiasts and ponies!
Devon Souvenirs
34
The Official souvenir shop of the Devon Horse Show & Country Fair, apparel, accessories, home and horse.
Devoucoux
75
Equestrian saddles, curated showcase of apparel and interiors that rejuvenate the classic and inspire a life well played in style
Dubarry of Ireland
29/29A
A collection of premium leather country and Marine footwear and clothing
Eastcote Lane
38A
Re-imagined vintage furniture plus unique hand crafted items for the home
Exhibitors' Lounge
72
Relax, cool off, refuel and recharge. Wristband required.
Fab Finds by Sarah
27
Fashion forward ready to wear boutique. Hand selected clothing providing chic and classy pieces with a little bit of rock and roll edge.
Fabbri Boots
59
100% Italian-made boots with custom and off-the-rack items
Garden Café
5
A rotating menu of delicious homemade soups, salads, sandwiches and entrees
GBF Gifts
19A
Monogrammed silver and gold jewelry and accessories, lightweight cashmere, custom pillows and painted school plaques and china trays
Hamburgers & Pizza
3
Burgers, chicken sandwiches, fries and pizza
Hannah Daye & Company
39A
Silver and gold jewelry inspired by natural beauty in balance with classical forms
Hats by Katie
16

Congratulations on your 27th Year as a Vendor at the Devon Horse Show & Country Fair!


High quality custom hats known for style and quality to complement your outfit and worn worldwide
Hingham Square Needlepoint
9
Create, inspire, innovate–one stitch at a time
Hunt Limited
60
Fine jewelry, clothing and accessories
Information Booth
1
Your source for everything happening at the Devon Horse Show & Country Fair
IsleField
43
Scarves, sweaters and blouses in soft, natural materials making you feel effortlessly chic
J. McLaughlin
31
American sportswear and accessories for men and women with distinctive flair for color and prints
Jean Forte Vintage Gifts
17
Vintage home goods, silver, crystal, pressed glass and china. Vintage jewelry.
Just Fur Fun
20
Extraordinary accessories for your pet and you
Kashmir Moon NY
45
Handmade oriental rugs, bedspreads, pillow cases, wall hangings, hand embroidered jackets, shawls.
L'Core Paris
61
Boutique skin care company specializing in anti-aging and beautifying treatments
Lugano
53
Exquisite, one-of-a-kind jewelry
Malvern Saddlery
51
Quality appointments for horse and rider
Maui Jim Sun Hut
18
Designer eyewear and accessories
MLWShowcase
14
Designer tabletop home accessories, jewelry, hostess and personalized gifts
Nancy Baldwin
70
Custom art and antiques
Oak & Rope Company
42A
Unique and personal gifts of solid oak designs made in the UK with hand carved letters using traditional methods with a contemporary twist
Outback Survival Gear
24
Fine outerwear and boots
Polka Dots
15
Cozy boutique specializing in fun and trendy clothes, shoes, jewelry and accessories
Pour Richard's Coffee Co.
32
Artisan roasts and espresso
Project A, LLC
56/57
Men's and women's riding jackets and training wear
pucciManuli
16A
Remarkable collection of high quality toys, games and gifts for children of all ages.
Royal Bee
58
Natural honey skin serum and creams, soaps and other items
Rumor Has It
73
Curated showcase of apparel and interiors that rejuvenate the classic and inspire a life well played in style
Salads, Wraps & Hot Dogs
4
Fresh salads, wraps and hot dogs
Smathers & Branson
11
Everything needlepoint: belts for men, women and kids, key fobs, cummerbunds, and coin purses.
Snug Pups
55
All coats are designed and hand made in Pennsylvania, USA with a custom fit that will snug your pup perfectly!
Soft Drinks & Ice Cream
2
Cones, sundaes, smoothies, soft drinks and popcorn
Stylish Equestrian/National Horseman
7
Premier luxury retail for the modern equestrian
SUZANNE DESIGNS
8
Fashion jewelry, handbags, scarves, small leather goods and unique monogrammed items.
The Art Gallery at Devon
38b/c
Fine Art – Oils, Watercolor, Sculpture and more
The Engraver
62
Complete source of engraved nameplates for all equestrian needs. Featuring the Green Hill Collection of leather and canvas goods, all made in the USA
Tish Boutique
69
A fresh blend of women's clothing and accessories, including Old Soul Décor
Trotter Hill Alpacas
40A
One of a kind products from the fleece of alpacas raised on our farm
Turner & Co.
10
Carefully curated women's designer denim and ready to wear items from Jbrand, Hudson, Splendid, Ella Moss, Autumn Cashmere and more.
Tuyet Distinctive Jewelry
13
Wide variety of handcrafted jewelry for all occasions and tastes.
Un Pueblo
42
Handmade pine needle baskets with nickel trim and hand crafted metalware. Woven totes.
Valley Forge Flowers
26
Flowers, furniture and accessories for the home and garden
Velvet Road, The
41A
One of a kind velvet embroidered boots and shoes along with unique and wearable finds from around the world
What a Good Dog
22
Pet services and gifts
Zest
41
A unique blend of clothing and accessories
Zoey by Design
40
A collection of equestrian and mainstream sterling silver, handbags and rainwear
Devon Garden Café
Catering By Design, Philadelphia's premiere catering service will be at the Garden Café!  In addition to traditional favorites there are new and exciting menu selections, including rotating daily specials and boxed lunches/dinners to-go!
Click here for more info!
The Garden Café offers freshly made salads, soups and other entree choices each day. Guests check out the daily menu and then enter to go through the self-serve line to select their lunch or dinner. The Pavilion is reserved for guests of the Garden Café and it's the perfect place to relax and enjoy the people watching! Wine is also available in the gazebo which makes dinner even more special.
Tea Cart
The Devon Tea Cart is celebrating its 100th anniversary this year. While the silver tea service is long gone, tea sandwiches and specialty baked goods remain very popular. Tea Cart opens at 7 a.m. daily several breakfast options including quiche (new this year). Of course, the iced tea with fresh mint sprigs is a staple.
Food Alley
Though we are not really sure how this name came about, Devon does offer food options for everyone. The hamburger booth is known for the classic Devon Special (a burger and fries combo) as well as grilled chicken sandwiches and pizza. Many opt for the made to order fresh salads or wraps at the Salad booth but most everyone stops by the ice cream booth for a big scoop of Bassett's ice cream (mint chocolate chip is the #1 seller). The picnic grove in front of the Pavilion provides a nice shaded area with plenty of room to sit ad enjoy your food.
Souvenirs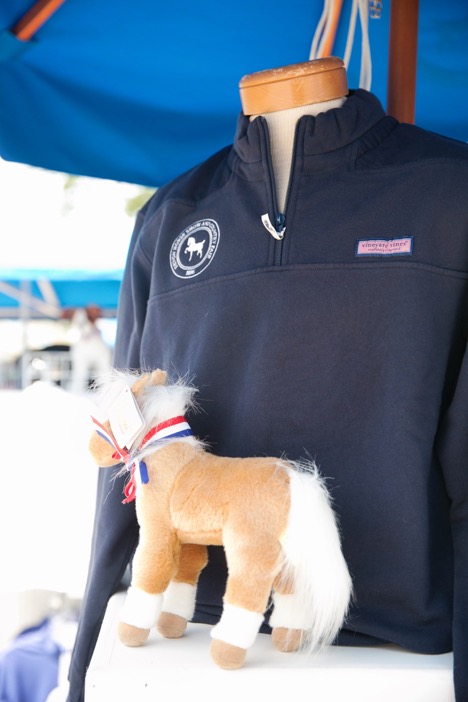 Brenda Carpenter Photography
The Devon Souvenir booth is nothing less than amazing, in fact, it takes several times there to see everything that is offered. As with all booths, Souvenirs is run by volunteers who scour gift shows and apparel retailers all year looking for the newest trends and time honored classics. Traditional baseball caps, sweatshirts and other logoed apparel fly off the shelves. The booth also has expanded into a large selection of home and giftware. Check out the Souvenir On-line Store for merchandise year round.
The younger set will love the Devon Kids/Future Champions store with everything from plush to gear for the young horse enthusiast.
Art Gallery at Devon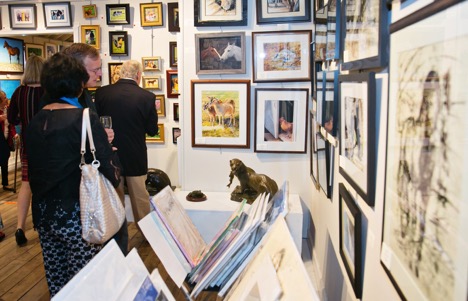 Brenda Carpenter Photography
Since its beginning in 1999, the Art Gallery has displayed and sold beautiful pieces from paintings to sculptures. What many don't realize it that this is a juried art show which includes over 500 exhibits each year.
The night before Devon's official opening, the Art Gallery hosts First Night at Devon, an elegant event for guests to preview and purchase art prior to the opening. This year's event will be held, Wednesday, May 22nd, for more information, please click here.
Midway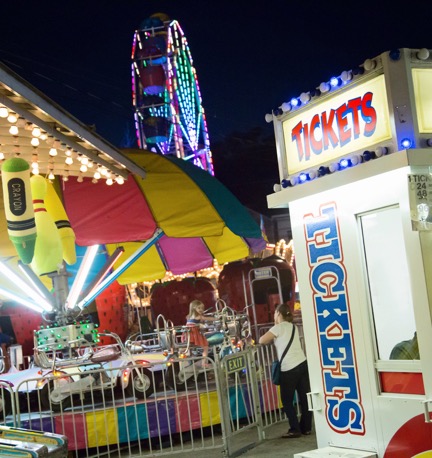 Brenda Carpenter Photography
More Devon traditions! From the Ferris wheel to the spinning strawberries and the duck pond for the little ones, Devon's midway is all about fun. There is also plenty of carnival food such as funnel cakes and fried Oreos to keep the adults happy while waiting for the kids. The Midway is open every day from 10 a.m. (11 a.m. on the first Sunday) to the close of the show.
Information Booth
The Information Booth is the place to go if you need information or assistance. The booth is staffed by long time volunteers who offer friendly assistance and directions. The daily schedule is also posted at Information so you can check on favorite events or classes. Lost and Found is also located in the Information Booth.
Souvenir Program
Another Devon tradition – the Souvenir Program. It's a fun way to watch events and make note of the winners. The Program is sold in front of the Information Booth as well as at the back gate and ticket office.
Devon Derby
We are proud to continue one of the longest standing Country Fair Traditions at Devon; the Devon Derby!
Buy a book of Devon Derby chances, and you could win a new 2019 Buick Encore lease sponsored by Patriot Dealership, or one of the other 6 fantastic prizes; including a Phillies game/VIP dinner, a TREK performance bike, $1,000 gift certificate to Walter J. Cook Jeweler, a $500 in-store shopping spree at Bloomingdale's and more! A $10 Derby book gives you 6 chances to be a winner.
We welcome you to join our tradition of volunteerism, community and dedication to the best Horse show in the country! We are proud to call Bryn Mawr Hospital our beneficiary and to continue our support of their modernization plan with a 5 year, $2 million pledge! Hope you enjoy the Fair!