The Devon Country Fair is all about traditions! As the philanthropic arm of the Devon Horse Show and Country Fair, this committee has over 120 Chairmen and 2,000 volunteers who come together each year to plan and staff food and merchandise booths alike. It's quite an undertaking!
Much like the Devon Horse Show, the Country Fair has created its own traditions through the years. Generations of families fondly recall memories of selling (and eating) lemon sticks and the famous Devon fudge. Whether it's collecting souvenir pins, scooping ice cream, selling Derby chances, or viewing the Devon skyline from the ferris wheel, the Devon Country Fair has permanently woven itself into the fabric of many on the Main Line. Attending the fair holds a special spot in people's hearts but volunteering at the fair has proven to be a generational identity for many.
We are always looking for new volunteers! If you want to make Devon your tradition, e-mail us at volunteer@devonhorseshow.com to find out more.
Vendors
| | | |
| --- | --- | --- |
| 12 West Boutiques | 24 | Women's clothing and accessories |
| B&D Builders | 55/56 | Builders of fine equestrian facilities and homes |
| blue beret, The | 12 | Curator of unique and one of a kind hand made infant and children's apparel and accessories from around the world |
| Boot & Bridle | 51 | Generations of riders have trusted our expertise to outfit them correctly for the show ring or schooling, as well as supply their barns with tack and stable necessities |
| Bow River Jewelry | 53 | Fine equestrian jewelry |
| Briar Hill Signs | 31B | Custom carved wood signs |
| Candy | 36 | Devon fudge, lemon sticks and candy galore |
| Chilcote & Richards | 25 | Accessories for self and home, bags, belts, jewelry, home decor, pillows |
| Christine Shirley Designs | 50 | A thoughtfully curated boutique carrying handmade apparel and accessories as well as the work of other designers. Comfy, cozy and cute, easy-to-wear apparel, lovely jewelry, home decor and floral gifts can be found here. |
| Clydesdales' Corner Pub | 54 | A casual place to gather, live music nightly, Must be over 21 years of age |
| Courtney Design | 41A | Impressive blend of finely crafted silver and gold bracelets, earrings and pins |
| CWD sellier | 65 | Equestrian Saddles, latest fashions in equestrian and non-equestrian jewel |
| David Frank Furniture | 73 | Designs and manufactures luxurious outdoor furniture with an unparalleled passion for the outdoor experience. |
| Der's Custom Boots & Shoes, Inc. | 67 | Custom boots & shoes |
| Devon Derby | 33 | Winners will be drawn on Saturday evening, June 3rd |
| Devon Kids | 35 | Official location for all Devon merchandise for the younger horse enthusiasts and ponies! |
| Devon Souvenirs | 34 | The Official souvenir shop of the Devon Horse Show & Country Fair, apparel, accessories, home and horse. |
| Do Trot In | 75/ mobile | Offering a carefully curated equestrian collection, we are dedicated to the best customer service and personal assistance we can offer, from the most beginner rider, to the seasoned show competitor. |
| Dubarry of Ireland | 29/29A | A collection of premium leather country and Marine footware and clothing |
| Ebb and Flow NYC | 41 | A handmade home fragrance company specializing in candles, diffusers, room sprays, lotions and body scrubs. |
| Exhibitors' Lounge | 72 | Relax, cool off, refuel and recharge. Wristband required. |
| Fab Finds by Sarah | 27 | Fashion forward ready to wear boutique. Hand selected clothing providing chic and classy pieces with a little bit of rock and roll edge. |
| Garden Cafe' | 5 | A rotating menu of delicious homemade soups, salads, sandwiches and entrees |
| GBF Gifts | 19A | Monogrammed silver and gold jewelry and accessories, lightweight cashmere, custom pillows, painted school plaques and china trays. |
| Glenda Gies Design | 64 | One of a kind vintage fabrics for name-sake line of upscale handbags |
| Green Star Exteriors LLC | 60 | Providing and installing superior vinyl replacement windows, roofing, siding and doors, we are dedicated to completing every job exactly as promised. |
| Gypsy Dreams Equestrian Boutique | 71 | One stop shop for equestrian lifestyle home decor, gifts and more. |
| Hamburgers & Pizza | 3 | Burgers, chicken sandwiches, fries and pizza. |
| Hands In | 20 | Fair trade, custom artisan works sourced from the developing world. |
| Hannah Daye & Company | 39A | Silver and gold jewelry inspired by natural beauty in balance with classical forms |
| Hats by Katie | 16 | High quality custom hats known for style and quality to complement your outfit. Worn worldwide |
| Hilltop Bio | 76 | Veterinary biotech company developing innovative regenerative therapies focused on helping our four-legged friends reduce inflammation from injuries or disease. |
| Heigh Ho Jewelry | 9 | Fun seasonal fashion jewelry including sterling silver and 18K gold filled jewelry. |
| Hip Klip, The | 11 | Small pouches that "klip" to your waist for a hands free secure place for money and cell phone. |
| Information Booth | 1 | Your source for everything happening at the Devon Horse Show & Country Fair |
| J McLaughlin | 31 | American sportswear and accessories for men and women with a distinctive flair for color and prints |
| Jean Forte Vintage Gifts | 17 | Vintage home goods, silver, crystal, pressed glass and china. Vintage jewelry. |
| Karma Living | 63 | Bringing you the latest looks and trends in home fashion from around the world. |
| LAURACEA | 52 | A collection of equestrian minded leather goods that are all made in Italy. |
| Le Fashion Cottage | 45 | Boutique specializing in ladies' dresses, tunics, shawls, jackets, evening bags and pearls. |
| Lilo Collections | 66 | Active jewelry and accessories including Spanish leather belts and wallets |
| Maui Jim Sun Hut | 18 | Designer eyewear and accessories |
| Millstream Home | 38A | An ode to their Amish heritage. Exclusively designed by Millstream Home and manufactured by Amish men and women in Lancaster, PA American made heirlooms in the making. |
| MLW | 14 | Designer tabletop home accessories, great jewelry, hostess and personalized gifts. |
| Oh So Rosie | 30 | Home furnishings, gifts and accessories. |
| Polka Dots | 15 | Cozy boutique specializing in fun and trendy clothes, shoes, jewelry and accessories. |
| Project A, LLC (Charles Ancona) | 57/58/59 | Men's and women's riding jackets and training wear. |
| Sips & Bits | 4 | Back for 2023 our Sips & Bits booth will feature, expresso creative infused options, and grab and go gourmet snack foods. |
| Salty Dog & Sweet P's Swag | 40 | Apparel and gifts for animal lovers along with toys and swag for dogs. |
| Soft Drinks & Ice Cream | 2 | Cones, sundaes, smoothies, soft drinks and popcorn. |
| Somerset Equest. Trading | 39 | Espoir Equestrian Lifestyle and competition apparel. Representing Boy O Boy Bridleworks, handwoven belts, dog collars and accessories. |
| Sow & Sew Boutique | 17A | Unique and inclusive items that are created and backed by the community we live. A portion of our sales go toward local charities and other community programs. |
| TBJ Gourmet | 40A | Spreadable bacon in six flavors–classic, black pepper, sweet chili, honey habenero, maple and fig. Also vegan tomato jam. |
| The Art Gallery at Devon | 38b | Fine Art – Oils, Watercolor, Sculpture and more. |
| The Engraver | Barn 1 | Complete source of engraved nameplates for all equestrian needs. Featuring the Green Hill Collection of leather and canvas goods, all made in the USA. |
| Turner & Co. | 10 | Carefully curated women's designer denim and ready to wear items from Jbrand, Hudson, Splendid, Ella Moss, Autumn Cashmere and more. |
| Tuyet Distinctive Jewelry | 13 | Wide variety of handcrafted jewelry for all occasions and tastes |
| Un Pueblo | 42 | Handmade pine needle baskets with nickel trim and hand crafted metalware. Woven totes. |
| Valley Forge Flowers | 26 | Flowers, furniture and accessories for the home and garden. |
| Vitality Wellness | 61 | |
| Vogel NYC | 7 | Bespoke leather riding boots and classic shoes. |
| Voltaire | 68 | High end custom saddles and accessories. |
| Wacoal | 69 | Women's premium intimate wear. |
| Wellington & Co. Antiques | 16A | Equestrian antiques, sporting art and estate jewelry |
| What a Good Dog | 22 | Pet services and gifts |
| Wild Birds Unlimited | 8 | Highest quality bird feeding products as well as binoculars, birdbaths, and gifts for gardeners. |
| Windland Farms/ Nancy Baldwin | 70 | Art and Antiques |
| Zest | 21 | A unique blend of clothing and accessories |
Devon Garden Café
Heathland Hospitality Group, will be the at the Garden Café!  In addition to traditional favorites there are new and exciting menu selections, including rotating daily specials!
GARDEN CAFE MENU
Memorial Weekend Menu
The Garden Café offers freshly made salads, soups and other entree choices each day. Guests check out the daily menu and then enter to go through the self-serve line to select their lunch or dinner. The Pavilion is reserved for guests of the Garden Café and it's the perfect place to relax and enjoy the people watching! Wine is also available in the gazebo which makes dinner even more special.
Boxholder Catering -Di Bruno Bros
In partnership with Di Bruno Bros., Sips & Bits will be offering boxholder ordering for the 2023 Devon Horse Show & Country Fair.
Here's how:
1. Scan the easy QR code with your phone or go to: https://dhscf-online food ordering.myshopify.com/
2. Place items you would like in the shopping cart on the website.
3. Indicate the day you would like your order prepared for pick-up. Orders must be placed a minimum of two days in advance of requested pick-up date.
4. Items will be ready for pick-up, on your requested date, between 4:00pm-6:00pm in the online order pick-up section of Sips & Bits booth, located in Restaurant Row of the Devon Country Fair.
Note: Orders can also be placed at the Sips & Bits Booth as well, just ask for a chairman!
MORE INFO
Tea Cart
This is the booth that started the Devon County Fair! Back in the day, a full afternoon tea service was offered; over 100 years later this is still the place for delectable tea sandwiches, as well as cupcakes, cookies and brownies, wraps, salads, hot and cold beverages and, of course, tea, both hot and iced, served all day. Opening early at 7am, the Tea Cart additionally offers breakfast sandwiches, quiche, and pastries until 11:30am.
The Gazebo
Located where the Picnic Grove meets the Art Gallery at Devon, the Gazebo offers a large variety of adult beverages including beer and at least 8 different wines to appeal to various tastes. The two most popular wines from last year will be back, Ranga Ranga, a New Zealand Sauvignon Blanc and a French rosé, Mirabeau Rosé Belle Anne along with a selection of reds, whites, rosé and sparkling wines. Stella Artois will be available on tap as well as bottled offerings ranging from Goose Island, Michelob Ultra and others. At peak spectator times, look for The Gazebo's convenient outpost located near the South Grandstand.
1896 Grille
You'll find more here than Devon's delicious hamburgers and famous fries! Grilled chicken sandwiches, hot dogs, and pizza are all served abundantly and with a smile!
Ice Cream and Sodas
Sodas, and shakes, and scoops, oh my! If you're craving a frosty treat stop by the Ice Cream and Sodas booth for a delicious lineup of Bassett's Ice Cream flavors, in a cone, a cup, or blended. Also on offer, tasty fruit smoothies, buttery popcorn, and a huge array of Pepsi soft drink products including sodas, juices, water, and Gatorade. New this year, ice cream sandwiches in two flavors: Classic – two chocolate chip cookies with vanilla ice cream, and Thick Mint – chocolate chip mint ice cream sandwiched between two double chocolate cookies. Cookies are freshly made by The Famous 4th Street Cookie Company of Philadelphia.
Sips & Bits
The new kid on the block is a real crowd pleaser! Sip & Bits offers sophisticated snacks and flavorful mocktails. Think charcuterie, sandwiches, salads and grain bowls from Di Bruno Brothers, gourmet egg rolls from Madi's on a Roll, tomato pie from Corropolese Bakery and very tasty drinks to wet your whistle. There are also options for the little ones featuring chicken nuggets, fruit pouches, and juice boxes, making it a great place to fuel the whole family. Pour Richard's Coffee Co. & Distillery will be serving a variety of espresso beverages to keep you caffeinated
Candy
Home of the Lemon Stick and every child's favorite shop at Devon! The Candy booth is located in the Picnic Grove and offers a huge variety of sweet treats including nostalgic favorites that may bring parents back to their own childhood days. Get your Devon Fudge while supplies last, it's only available once a year!
Souvenirs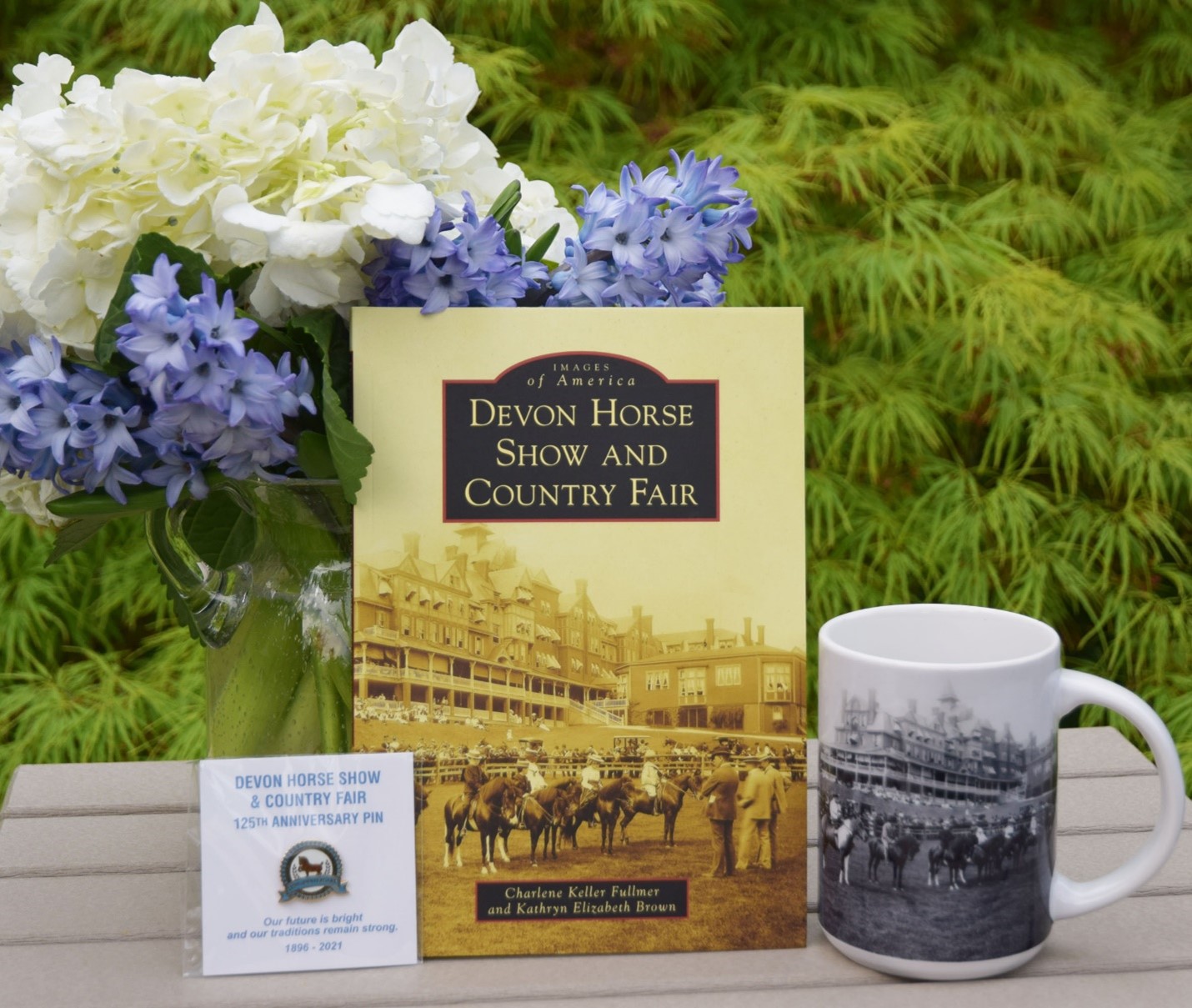 Brenda Carpenter Photography
The Devon Souvenir booth is nothing less than amazing, in fact, it takes several times there to see everything that is offered. As with all booths, Souvenirs is run by volunteers who scour gift shows and apparel retailers all year looking for the newest trends and time honored classics. Traditional baseball caps, sweatshirts and other logoed apparel fly off the shelves. The booth also has expanded into a large selection of home and giftware. Our online Souvenirs Shop is open for business!
The younger set will love the Devon Kids/Future Champions store with everything from plush to gear for the young horse enthusiast.
Among the noteworthy new items for 2023:

Iconic Devon custom prints from British designer, Julia Gash featured on platters, blankets, ornaments, and drink wear.
Dresses, skorts, tech tops and totes, also in a custom designed print, from Smith and Quinn.
Devon logoed Addison Bay fashion forward Spring 2023 tops and leggings.
New Devon Blue enamel and gold vermeil sterling silver pendant necklaces from Lola and Company.
Little Words Project beaded stacking bracelets highlighting positive Devon Horse Show messages.
This is also where you will now be able to purchase the 2023 Souvenir Program.

Check out our link to view special sales throughout 2022 and 2023!




Shop Devon
Art Gallery at Devon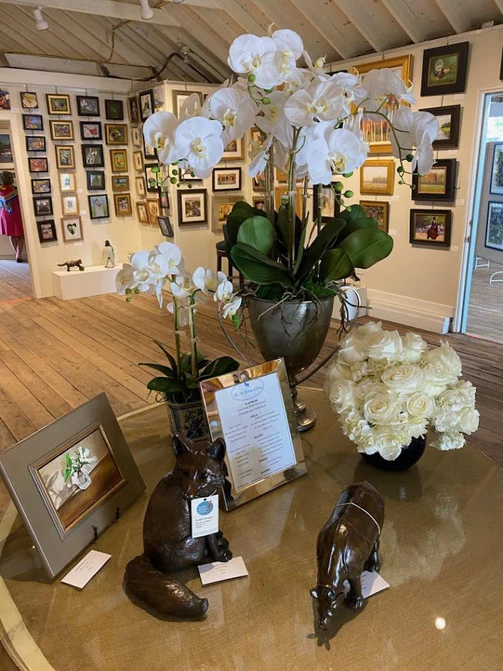 Brenda Carpenter Photography
The Art Gallery at Devon exhibits juried works from over sixty artists, both new and returning to Devon. Many pieces are by local and regional artists and feature pastoral and equestrian representations of Chester County and the surrounding areas. A wide variety of techniques and mediums are featured including oil, acrylic, pastel, charcoal, photography, and bronze in sizes ranging from miniatures to large pieces.
Along with returning favorites, the gallery will welcome 12 new artists this year including, for the first time, two whom we will feature in our "Young Artist" collection. These individuals are local, young, and up and coming talents.
A meet and greet signing event with Shawn Faust, our 2023 poster artist, will take place on Sunday, May 27 from 11am-1pm. Additionally, The Art Gallery will host demonstrations by a variety of artists showcasing their individual medium and technique.
For a first look at this year's spectacular works, consider attending First Night at Devon. This is the premier kick-off event for the Devon Horse Show and Country Fair. This festive evening features an open bar and gourmet fare and annually draws an intimate gathering of 200 guests complete with the company of exhibiting artists and like-minded friends of art, horsemanship, and philanthropy. Guests of First Night at Devon are among the first to preview and purchase original art from locally and nationally recognized artists. Guests will have the exclusive opportunity to meet many of the artists and stroll the horse show grounds without the big crowds. First Night at Devon takes place Wednesday, May 24th from 6-9:00 pm, tickets are $125.00 per person.
If you can't get to the Art Gallery at Devon in person this year, or perhaps decide you simply must purchase that other piece you just loved, we will continue to feature our artists' available work in an online gallery as well. The website will go live on the first day of the horse show, please visit, https://artgallery.devonhorseshow.net
Midway
Brenda Carpenter Photography
Home of the iconic Devon Ferris wheel, rides, and carnival games, the Midway is a "must do" for kids of all ages! You'll also find fun foods including fresh lemonade, water ice, funnel cake, cotton candy, popcorn, snow cones, candy apples and more. Family Days, Thursday, May 25, 2023 and Tuesday, May 30, 2023 will feature discounted wristbands for limitless rides!
Information Booth
Whether you're a seasoned veteran or new to Devon, everyone has a question now and again. The volunteers in the information booth, located just inside the main gate, are happy to help! Feel free to stop by and pick up Devon inserts from the local news outlets, see what's where, peruse the menu for the Garden Café, check out the daily schedule, find your seat, or just about anything else you need to know. Information also serves as the "lost and found" – good information!
The Devon Horse Show and Country Fair looks forward to celebrating its 125th anniversary during the competition in 2022. We welcome you to be a part of our annual historic tradition of community, volunteerism and dedication to our DHSCF mission!!